The Art of Oddworld Inhabitants: The First Ten Years 1994-2004 is a high-quality art book released in the fall of 2004 by Ballistic Publishing. It was originally available in three editions: softcover, hardcover, and limited edition. In 2009, Ballistic Publishing announced an extremely limited reprint called The Special Collector's Folio Edition. As of September 2017, all versions of the book are "sold out" according to Ballistic Publishing's website.
The art book contains many pieces of concept art, rendered art, and detailed descriptions of stories and places that could have been in the first four Oddworld games.
Limited edition
[
]
The limited edition of the book is bound in black leather and has high quality finishing. Only a thousand copies of the limited edition were ever made, with each copy including a certificate of authenticity for the number of the book that has been purchased. The first ten copies were reserved to be auctioned off.
Special Collector's Folio Edition
[
]
In 2009 Ballistic Publishing announced a reprint of the book that came with a special padded/stitched cover with a weathered‐leather appearance and varnished title, a hand‐crafted presentation case with purple protective ribbon, and a numbered certificate of authenticity individually hand‐signed by Oddworld Inhabitants founders Lorne Lanning and Sherry McKenna.[1] Only one hundred copies of this edition were printed and all copies have since been sold out.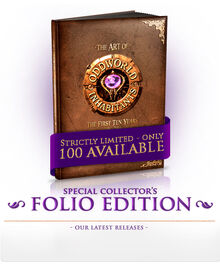 Product Details
[
]
Hardcover: 256 pages
Publisher: Ballistic Publishing; 1 edition (Fall 2004)
Original Concept: Oddworld Inhabitants
Author: Lorne Lanning
Language: English
Limited Edition:1-921002-01-8
Hard cover: 978-1-921002-02-1
Folio Edition: 978-1-921002-00-7
Gallery
[
]
References
[
]
External links
[
]