Name:
SnUzi
Type:
Submachine Gun
Rate of Fire:
600 rounds/min
Years Used:
Unknown
Manufacturer:
Vykker's Labs
Status:
Active
A SnUzi is essentially a giant needle, which fires darts laden by a powerful poison-drug, which was originally intended to be used to induce sleep on rabid test subjects or for security purposes, but it instead passed as a failed experiment that quickly kills its target. It has a rapid rate of fire and is used as a weapon by Interns and Vykkers, and a modified version is mounted on Snoozers; this one, however, uses less lethal narcotics formed from the poison drug and uses three rotating barrels for an even faster rate of fire.
The Poison-Drug
Edit
To be added
Variations
Edit
Standard SnUzi
Edit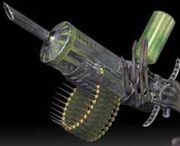 The standard SnUzi is ironically more dangerous to both the user and its targeted subject than the Snoozer Mounted Turret. It contains essentially a 'belt' of multiple hypodermic needles filled to the brim with a dangerous poison-drug.
Snoozer Mounted Turret
Edit
To be added
Appearances
Edit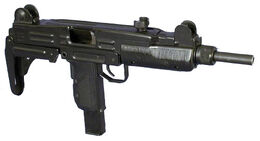 The SnUzi is the Oddworld equivalent and pun on the real-world sub-machine gun known as the Uzi.
The name is also a pun on the word snooze which means sleep.
Community content is available under
CC-BY-SA
unless otherwise noted.