Possession is the ability that Abe uses to control other beings, whether natural or industrialist. While under his control, Abe can make use of any of that creature's abilities, including movement, attacks, and GameSpeak commands. It is invoked through the use of his chant.
Abe's Oddysee, Abe's Exoddus, and New 'n' TastyEdit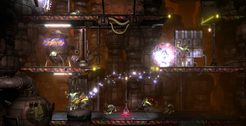 When Abe possesses a creature, the chant automatically hones in on the target. De-possessing a Slig or Glukkon causes it explode. Paramites and Scrabs, being sacred animals, do not explode when de-possessed.
GameSpeak is primarily used for ordering other creatures around and opening voice locks.
Munch's OddyseeEdit
Image needed

This article or its infobox is missing an image. Please help

The Oddworld Wiki

by

uploading

it.
Abe must consume spooce to create a possession orb, which he then directs towards the enemy he wishes to control. This ability is not available until he unites with Munch in the Mudokon Pens.
Gamespeak commands for possessed enemies are mostly insults, which can be used to provoke other enemies into attacking.
Munch has the ability to control Machine Operators through the use of his brain implant.
Possess-able Creatures
Edit
References
Edit