Expansion required

This article is too short to provide more than rudimentary information about the subject. You can help

The Oddworld Wiki

by

expanding it

!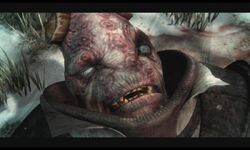 A mighty warrior who apparently protected the Grubb village before his mysterious disappearance sometime before Stranger's arrival. The Grubbs had thought that his disappearance was caused by a demon. In truth he had been captured by Sekto's forces, and Sekto himself had used the Olden Steef as a host mount, which drained the life from him. Though this makes some sense, since the Grubbs called Sekto "Sekto Demon." Frayda, the Grubb leader, never voices if she knows that Sekto is using the olden Steef, but by the shock the Grubbs show when finding out it seems that she probably didn't know.
When finally released from Sekto's grasp he is revealed to be pale, weak, somewhat blind and covered in several suction cup marks. This was caused by the years of having a parasite attached to his body. After asking if the water is free, meaning if the dam is destroyed, he perishes in front of Stranger and the Grubbs. Stranger slowly closes his eyes out of respect while the Grubbs mourn their fallen leader. It was never explained if the Olden Steef had any relation with Stranger, even though they're some of the last Steef alive they might possibly be from two separate families. As stated, it's never explained.