Oddworld: Soulstorm is an upcoming game in the Oddworld series. It is a re-imagining of the 1998 title Oddworld: Abe's Exoddus, built on a new engine and with a newly written story. Soulstorm will serve as a direct sequel to Oddworld: New 'n' Tasty and is currently expected to release on PlayStation 5, PlayStation 4, and the Epic Game Store in 2020.[1]
Backstory and setting
Edit
Soulstorm is set on the fictional planet Oddworld and a continent called Mudos. Mudos is inhabited by various sentient races all living together. The Glukkons run the majority of the continent's industry and use the Mudokons as expendable slave labor. Soulstorm picks up directly after the events of New 'n' Tasty. Abe has just saved 300 fellow Mudokons from the RuptureFarms meat grinders, but is then faced with the reality of starting an uprising against the ruthless corporations that keep his race enslaved.
Meanwhile the Glukkons have developed a highly addictive (and highly flammable) drink called Soulstorm Brew, designed to keep the Mudokon slaves docile and dependent on their masters.
Characters
Edit
Plot summary
Edit
Gameplay
Edit
During EGX 2017 a very early mockup of the game's UI was shown to the public. Crafting and managing followers will be some of the main gameplay mechanics in
Soulstorm
. Abe will be able to pick up objects he finds and craft them into useful items. Bottles of flammable Soulstorm Brew combined with a lighter may be turned into an improvised Molotov cocktail, for example. Follower management can take on extreme forms, up to "all 300 followers on screen at once" according to Lorne Lanning.
[2]
On May 13th a new gameplay teaser was released, showcasing more of Soulstorm's gameplay. The game is - what Lorne Lanning refers to as - "2.9D", which means that while the game is still a sidescroller, each area will have multiple "layers" that the player can see in the background and these can all be interacted with. Paths might curve towards the Z axis and also hazards might come from this direction as seen with the Comet Depot trains.
Mudokons are shown to be far more agile, capable of jumping, hoisting themselves and even using items Abe gives them. The articles released about Soulstorm also mention that Abe and his followers will be able to hide in lockers, which replace the smoke vents and shadows. Abe himself has received a few new moves and is now capable of double-jumping.
Sligs are now capable of shooting in all direction and their weapons aren't hit-scan anymore, which means a skilled (or lucky) player will be able to dodge bullets.
Chanting and possession have also received major changes. The more followers Abe has, the more "spiritual power" also known as Chi he'll amass. This can be then used to fuel Chant-orbs, that can be freely flown around the map. If the chant is strong enough, the Orb will become controllable again after the creature Abe was controlling dies. Also, the player can now choose whether they'll simply knock out their enemy or violently gib them.
Abe now has a backpack to store items in. He can obtain items by pick-pocketing sligs, raiding lockers or searching bins. He can give these items to his fellow mudokons, throw them, or make things with them, such as bottles that bounce more times or slingshots. Abe can also steal money which he can use to purchase items off vendos.
Differences compared to Abe's Exoddus Edit
While many core story elements from Abe's Exoddus return in Soulstorm the story was radically expanded. In Soulstorm's announcement press release Lorne Lanning explains that the story in Soulstorm, while inspired by Abe's Exoddus, would not be a one on one copy like New 'n' Tasty was. "There was a deeper, darker, and more sinister story that we never got to tell," explains series creator, Lorne Lanning. "Soulstorm gives us the opportunity to flesh out more meat on the bones of an original spine, but re-tell the fable from a very different angle." In an interview with GI Show Lorne explaines that Oddworld: Abe's Exoddus at the time had to be produced in only nine months. This resulted in little to no time to revise the script in any meaningful way. Soulstorm aims to tell the story as it was originally meant to be.[3]
New character designs
Edit
Every character and species in the Oddworld universe received a complete makeover. Mudokons have been redesigned to have smaller forehead, and significant mudokons are no longer clones off the generic design. Glukkons have more unique appearances as well, their eyes no longer glow (with the exception of Molluck's non-scarred eye) and their skin tones are now a very distinct grey.
New location designs
Edit
Necrum Mines, FeeCo Depot and SoulStorm Brewery all return in Soulstorm, but with newer and grander designs. RuptureFarms will also make a brief appearance.[2]
When asked about new locations Lorne Lanning said the following:
"We start off in a hideout, with some more native environments. You escape that towering inferno. Then we go into old, abandoned towns that are a little more like Stranger, these old mill towns and mining towns. We have ancient ruins, pretty spooky-looking areas. We wind up at gas stations for trains, big fuel depots. Then we go to a Slig Barracks and Necrum Mines, a mining factory that's built on top of a graveyard, basically. They're mining the bones. That's the other secret ingredient in the Brew."[4]
Development
Edit
A possible remake of Abe's Exoddus was first mentioned in an interview with Lorne Lanning on July 8th, 2014, where he discussed the then upcoming release of Oddworld: New 'n' Tasty.[5] On April 13th, 2015 Lorne Lanning was a guest on the Kinda Funny Games podcast and officially announced the Abe's Exoddus HD project to be in the planning stages. Lorne Lanning mentioned in the same interview that a lot of fans liked the name "Oddworld: Twice Ze Flavor".[6]
Other than Oddworld Inhabitants' main office in San Francisco, external contractors from New York City, San Diego, Vancouver, Quebec, the UK and Australia are also working on Soulstorm.[7] Among these are England based Fat Kraken Studios and Canada based Frima Studio.
By the end of 2015 Just Add Water announced that they would no longer be working with Oddworld Inhabitants on full-scale projects.[8] According to Lorne Lanning the distance between the two studios (OWI in the United States and JAW in the United Kingdom) would occasionally hinder the development process. A small number of team members who originally worked on New 'n' Tasty founded Fat Kraken Studios in November 2016. They have confirmed to be working on Soulstorm.[9]
On September 7, 2016, Oddworld Inhabitants announced that it was in possession of development hardware for the PlayStation 4 Pro, which was announced by Sony on the same day. The more powerful hardware compliments the design goals for Soulstorm by allowing higher visual fidelity, lighting and physically based rendering.[10]
The release date for Soulstorm was pushed back several times during development. The original release date for the game was aimed for Q4 2017, but was then pushed back to "early 2018" in april of 2017.[11] After this target came and went, the official Soulstorm page on Oddworld.com was updated with 2019 for the release. During the Unity GDC in March 2019 Oddworld Inhabitants showed off one of Soulstorm's cutscenes, the end text of which announced the game to be "Coming in 2020."
Development of Soulstorm is estimated to cost around fifteen million dollars, three times the original budget for New 'n' Tasty.[12]
On May 13th, Venturebeat.com hosted an interview with Lorne Lanning, where he claimed Soulstorm is being developed by around thirty people.[13]
Marketing
Edit
Announcement
Edit
Soulstorm was officially announced on March 14, 2016 during the GDC 2016, including a teaser page and a press release.[14] Oddworld Inhabitants reopened their own studio for the development of Soulstorm, aiming to develop most of the game in-house in conjunction with Canada based Frima Studio. The latter has an in-house animation and VFX department and is believed to be responsible for the game's cutscenes and high-res character modeling.
Pre-release promotion
Edit
Oddworld Inhabitants was present on the Electronic Entertainment Expo (E3) 2017 in Los Angeles to privately show Soulstorm to a select group of people. Oddworld Forums member Xavier was among the invitees and, while not able to share much of what he saw due to a non disclosure agreement, described Soulstorm as "more fluid, more alive and more dynamic than any other Oddworld game."[15]
At EGX 2017 Lorne Lanning gave a 45 minute presentation, sharing some of the history of Oddworld as a franchise and the future vision. Several pieces of concept art were shown, as well as an early mock up of the game's UI. No gameplay was shown on account of physical publishing deals that were still ongoing.
Alternate reality game
Edit
Almost directly after the announcement of
Soulstorm
, Oddworld Inhabitants started an ARG that required the fan community to find clues and solve puzzles in return for small pieces of
Soulstorm
's backstory. During the presentation at EGX Lorne Lanning showed the summary of the community's efforts in the form of a short teaser trailer, depicting the trial and testing process of Soulstorm Brew on Mudokon slaves.
Epic Games Store exclusivity
Edit
Short clips from Soulstorm were featured during a promotional video for the Epic Game Store during Gamescon 2019, indicating that the game would be available on the platform upon release. Shortly after this Lorne Lanning made a statement on social media, explaining the decision to work with Epic and confirming that Soulstorm will be exclusive to the Epic Game Store on PC.[16]
"
I would like to address the entire Oddworld community (old and new). You have supported us and our artistic vision for years and we thank you.
Oddworld: Soulstorm will be coming to PC via the Epic Games store. The PC and console versions of the game will have a simultaneous release in 2020.
What I would like to do is provide you with the reasoning that went into bringing the PC version of Soulstorm to the Epic Games store as an exclusive because you deserve to know.
We've been financing Soulstorm 100% ourselves. Soulstorm is our most ambitious game ever and we are committed to creating a great game that meets the highest level of quality. But to create the version of Soulstorm we want, and you deserve, we needed additional financial assistance.
Ambition is important, and it pushes me to try to overachieve. What pushes me even more is my commitment to you: you deserve great games.
As an indie publisher we must evaluate partnerships that will help us achieve our goals while protecting our vision for Soulstorm and the quintology. Epic supports our goal and commitment and is willing to help us achieve them by providing us with an advance on our PC sales, and we are incredibly grateful.
Thank you for reading.
"
— Lorne Lanning, Twitter.com
PlayStation exclusivity
Edit
On June 11, 2020 at Playstation's 'the Future of Gaming' show, it was announced that Soulstorm would be released on PlayStation 5 and PlayStation 4 simultaneously, together with the EGS release. Soulstorm is to remain exclusive to Sony's consoles for an unknown period.[17]
Pre-release artwork and concept art
Edit
Pre-release screenshots
Edit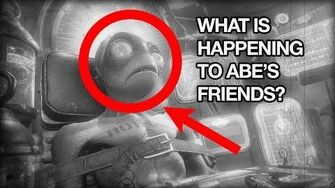 References
Edit
Community content is available under
CC-BY-SA
unless otherwise noted.