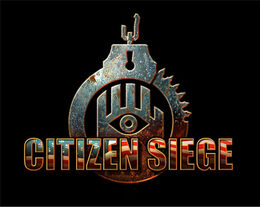 Citizen Siege is a science fiction thriller that will include a CG animated film and 2 games created by Oddworld Inhabitants. [1] The plot involves an expatriate who returns home to find that he has been repossessed, in a shady underhive-like world where a corporate government rules the continent. [2] The film was originally scheduled to release in 2009, but the date was pushed back to an unknown date.
Video Games
Edit
There are two Citizen Siege video games planned. The first of these is Wage Wars, intended to be released before the Citizen Siege film to support a 'synergy' between the two that has yet to be revealed. Wage Wars will be an online game, and may be digitally distributed. The second game has yet to be announced.
Production
Edit
The concept of Citizen Siege pre‐dates that of Oddworld, and was one of the stories Lorne Lanning told Sherry McKenna to convince her to co‐found Oddworld Inhabitants. Like all of Lorne's intellectual properties, ideas for cinematic and video game versions were developed in tandem.
By December 2004, Lorne was bringing Citizen Siege more to the forefront of his mind as he felt his politically edgy IP was appropriate to the current political climate of fear mongering and relinquishment of civil liberties. His plans were, against his wishes, published in an interview by ComputerAndVideoGames. Seeing that major studios were concentrating on making animated films family friendly, Lorne and Sherry initially tried to pitch Citizen Siege as an effects‐heavy, live‐action film that Lorne wouldn't have directed, but were told this would cost an estimated $125 million to develop.
However, after pitching the CGI film Pound Dog to John Williams, Williams asked Lorne about Citizen Siege, talk of which had been circulating. Impressed by Lorne's presentation, and recognizing the potential but completely untapped market for mature CGI films, Williams partnered Vanguard Animation with Lorne and Sherry to develop Citizen Siege at Vanguard's Vancouver studio for an estimated $40 million.
Vanguard planned to raise funds with outside investment, including foreign pre‐sales. Shortly followed by a press release, Lorne publicly announced the development deal at the end of his keynote speech at GameCity in October 2006, in time for the American Film Market in early November. With the development deal made, Lorne started focusing on the videogame, but didn't want to start searching for a publisher until a distribution deal for the film was secure. In September 2007, he said he would be starting actual production on Wage Wars. According to the About page of the Oddworld Website, the film was scrapped during the economic downturn of 2008.
References
Edit